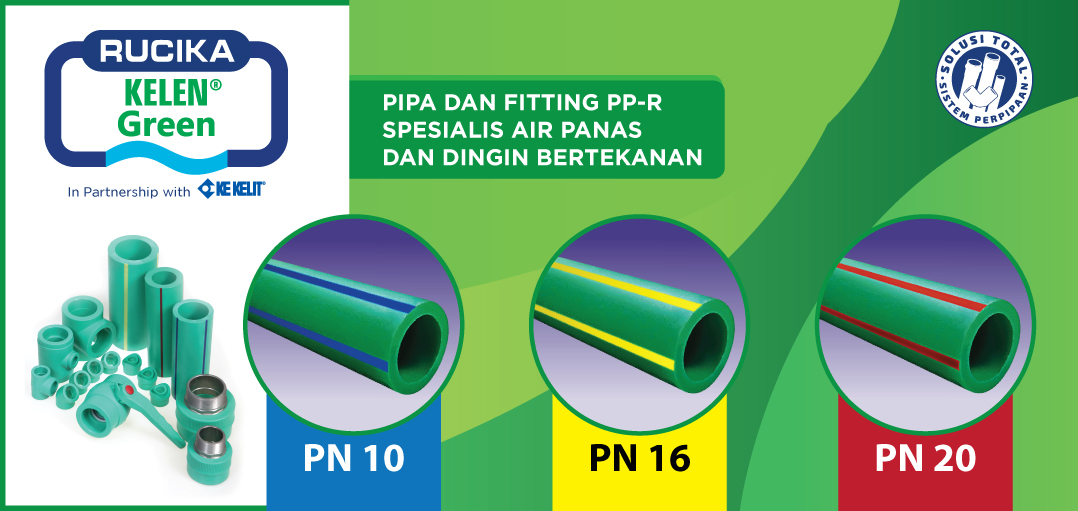 RUCIKA KELEN GREEN is a complete piping system for hot & cold pressurized water lines with a wide product range. The material is from Polypropylene Random (PP-R) type 3 or PP-R 80. Using a heat fusion connection system with a polyfusion or electrofusion heating device, so that the results of the connection become homogeneous or compound to guarantee its strength, anti-leakage, maintenance free & designed to be able used up to 50 years. This system is designed for sanitary systems & pressure channels in: - housing, industry, hospitals, hotels and apartments. - pressurized air system. - Drinking water and liquid food systems. - Agriculture (greenhouses & parks). - Aggressive acid and liquid transportation systems.
RUCIKA KELEN GREEN offers a complete pipe and pipe connection system with DIN 8077, DIN 8078, DIN 16962 and DIN 4726 standards starting from the outside diameter of 20 mm, 25 mm, 32 mm, 40 mm, 50 mm, 63 mm, 75 mm, 90 mm and 110 mm. RUCIKA KELEN GREEN pipe is available in PN 10, PN 16 and PN 20. While the pipe connection is available complete with various functions.
PN 10: Used to flow cold pressurized water. PN 16: Used to flow hot and cold pressurized water. PN 20: Used to flow hot pressurized water.
Graha Persada Hotel - Yogyakarta
Residential Projects - Jabodetabek
Solo Paragon Hotel – Solo
Garuda Plaza Hotel – Medan
Apartment Royal Residence - Medan
Grand Antares Hotel – Medan
Rucika Kelen Green Leaflet
Price List of Rucika Kelen Green