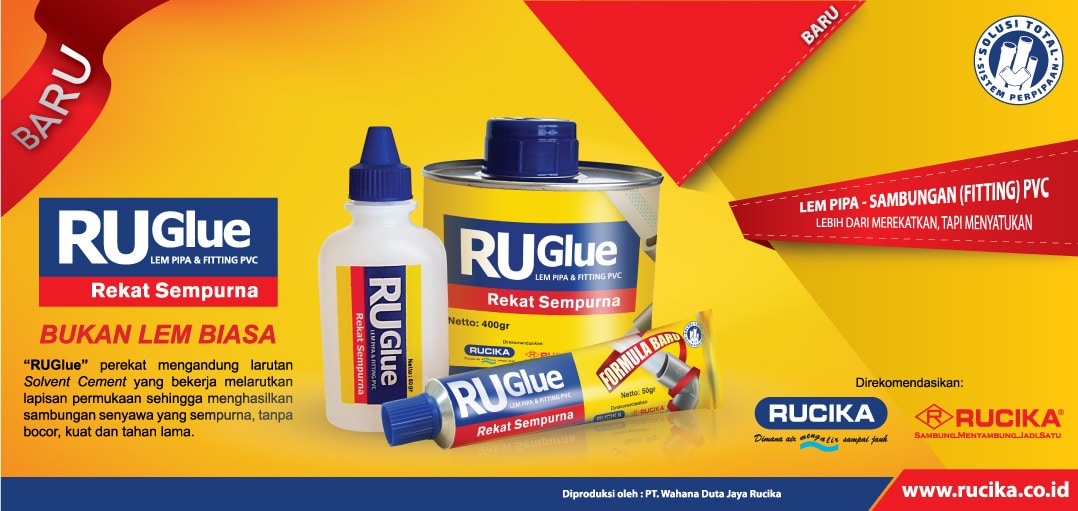 RUGlue is a PVC pipe and fitting glue especially developed by experts for tropical climates, with the latest formulas and technology that makes RUGlue has advantages over other PVC pipe glues. RUGlue pipe & fitting glue can be used to solvent cement pipes and PVC fittings covering household applications to large projects.
When performing a water installation, sometimes there are circumstances when you have to connect two or more pipes. Therefore, glue pipes and fittings are needed so that they can be connected perfectly. This glue is very easy to find on the market with various types and qualities. However, it turns out that choosing glue for this pipe should not be arbitrary and there must be some considerations first.
Some things that need to be considered include how long the glue will dry, how the glue will look after it is applied, how much it costs, and what effects are likely to occur after the glue is applied. All of these things will be very important if it is in a large-scale project. Therefore, the following must be taken into account in advance.
Pipe Glue Criteria to Pay Attention to
1. Perfect glue
The first criterion of pipe glue is perfect adhesion. This is very important, especially for new PVC pipe installations. The glue should hold the pipe together perfectly. You don't want the hassle of going through a piping installation just because there is one problem where the pipe doesn't stick properly, right?
2. Durable
In addition to perfect adhesion, glue for pipes should also have a long enough resistance. Also, make sure that the glue can keep the pipes and joints in place so that there are no leaks in the future. Carelessly gluing pipes, especially using bad quality glue, will actually be troublesome in the future. When a pipe breaks, you have to fix it and drain your savings.
3. Efficient
When building a house, there are many water pipes to connect. Therefore, don't be too wasteful in using pipe glue. In addition to making the expenditure bigger, using too much glue also does not necessarily guarantee that the pipe sticks together perfectly. Here the efficiency of the glue is needed. The more precise and efficient the glue, the better the result.
Types of PVC Pipe Glue
1. PVC Heavy Duty Gray Cement
The first type is PVC Heavy Duty Gray Cement. This glue can be used in all classes and sizes of PVC pipe with installations up to 12 inches in diameter and 18 inches of interference. Usually, this glue is often used for drinking water piping, DWV, and pressure pipes.
2. PVC Heavy Duty Clear Cement
PVC Heavy Duty Clear Cement can also be used in all classes and sizes of PVC pipes. This pipe glue can fill gaps in pipes with large diameters and have loose joints. Just like the previous type, this pipe is also often used in pressure pipes, drinking water pipes, and DWV.
3. PVC Heavy Duty Gray Fast Set Cement
Furthermore, there is a type of PVC Heavy Duty Gray Fast Set Cement. Besides being used in drinking water pipes and pressure pipes, this glue can also be applied to irrigation equipment.
Actually, there are still many types of glue and various needs. To prevent the wrong choice of glue, you should first consult with the seller about your pipe needs and installation.