Rucika Solution
for Mining & Plantation
Handling water in mining, as well as plantations and agriculture, requires adequate infrastructure so that there are no problems that hinder productivity. A quality pipeline network forms the backbone and is one of the factors for the smooth running of the business in these two industrial sectors.
Water inundating the mining area is a problem that must be addressed immediately, because it can stop mining activities. Thus, dewatering or drying of the land in the mining area is the key to carrying out mining activities. Meanwhile, plantation and agricultural land need water in its main activities. The infrastructure in plantations and agriculture is in the form of irrigation networks, including irrigation buildings, primary channels, and secondary channels.
Rucika provides the right pipe products to answer the needs of the two sectors above, namely Rucika Black and Rucika Exoplas. This Rucika production pipe has high innovation that can support the smooth running of industrial activities. With more than 30 years of experience in the piping world, Rucika's pipe products have been tested to be applied in unstable land conditions.
Pipe Network
for Extreme Lands
The mining industry area is located in varying land conditions, ranging from moderate to extreme contours, therefore the water infrastructure in the area requires a piping system with special characteristics, as well as for plantation areas.
A special character is found in Rucika Black, a pipe made from Polyethylene (PE) which has a high degree of flexibility. This pipe can be used for hilly, marshy contours, even in earthquake-prone areas. High-quality PE material makes this pipe not easy to crack even if it is hit by a hard impact.
Rucika Black is also widely used for irrigation channels in plantation and agricultural areas. The toughness and flexibility of pipes are considered by business people engaged in this industry because they can add value to productivity. This pipe can last more than 50 years.
Efficient Because the Transport Process and Easy Installation
PIPES FOR DRINKING WATER NETWORK
The pipe material uses the PE-100 type, with a design stress of 8 Mpa.
Anti-cracking, anti-rust, and very elastic. Available in the form of bars and coils to facilitate the transportation and installation process. Has several connection alternatives: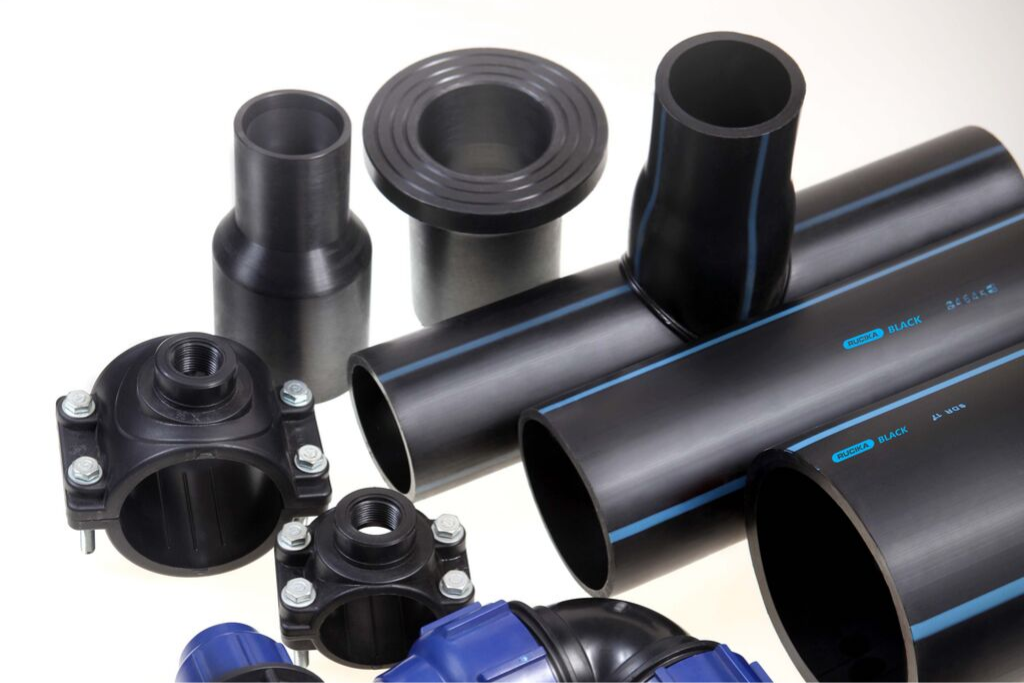 International quality pipes that have good resistance to these chemicals are usually applied to:
Resistant to extreme weather and chemicals (strong acids & bases)
Provision of clean water for agriculture requires a proper piping system for irrigation networks.
Water management on agricultural land aims to optimize water availability, both during the dry season and during the rainy season. So the rice field area gets enough water, not lacking or excess. This function is fulfilled by advances in irrigation technology supported by an innovative piping system.
Rucika Exoplas PVC-O pipe is a pipe technology that has good compressive and impact strength. Although they are stronger than standard HDPE and uPVC pipes, they are light in weight and flexible so they are easy to apply in the field. These various advantages will save the cost of installing a piping system in the irrigation network.
Optimizing the amount of water flowing into the land
PRESSURE WATER PRESSURE PVC-O PIPE
Rucika Exoplas Applications
Rucika Exoplas is very strong against water pressure and high impact strength, this system is designed to:
The connection system has a dual function: it holds water out and acts as a lock