Designing a piping system is a task Engineer assisted by Drafters. For this reason, the installation planning must be thought out as carefully as possible in order to produce an effective, efficient and running design according to its function. One of the things that must be considered is choosing the right type of pipe for the plumbing system, especially domestic wastewater pipes.
Did you know, currently Rucika has acoustic pipes that are able to meet the needs of domestic wastewater pipes. Domestic wastewater is liquid waste originating from human activities related to water use. As the name implies, domestic liquid waste is a liquid produced from household and industrial activities. For example, water for washing clothes, bath water, and human waste. This domestic liquid waste can contain hazardous chemicals such as bath soap, laundry detergent, oil, germs and so on. Pipe Rucika PP3< /span> is a pipe for wastewater with special material characteristics so that it can be applied to drain waste water at hot temperatures and can reduce the sound of running water. In addition, the smooth inner surface can minimize the occurrence of material deposits in the pipe. Rucika PP3 is manufactured according to European Standard EN 1451-1 which can be used for low and high temperature wastewater systems as well as for ventilation systems for sewage and rainwater in residential, industrial, hospital and high-rise buildings.
Rucika PP3 pipe material consists of 3 layers, namely:
External Layer

, made of

< i>

grey polypropylene,

thus ensuring excellent protection.

Intermediate Layer,

made of a mixture of

polypropylene

and

mineral loads

which offers significant mechanical resistance

at low temperatures as well as noise dampening (

noise absorption

).

Internal Layer,

made of

white polypropylene

with a smooth surface, resistant to chemicals and abrasion. White color on the inside of the pipe for easy video inspection.

Push-fit socket with seal,

the end of the pipe which ensures leak-free and free movement of the pipe even under the influence of expansion.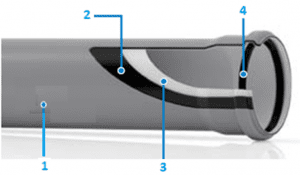 Rucika PP3 has several advantages, including the following :
Light weight and easy to install, using the

push-fit span>

making it easy to install without special tools.

Good silencer, can reduce sound up to 17dB with

flow rate < /span>

2 l/s according to standard EN14366 (Certificate P-BA 92/2014).

Smooth inner surface, thereby minimizing the accumulation of grease and sedimentation on the inner wall of the pipe with the value of the inner surface roughness of the pipe (

surface roughness

) 0.007 mm.

Chemical-resistant, has high chemical resistance up to pH 2-12.
With some of the advantages mentioned above, Rucika PP3 pipe is very suitable for domestic sewage pipe installation (hot water waste / waste kitchen) and as well as noise suppression (noise absorption) for residential, industrial, hospital and high-rise buildings.
JDW